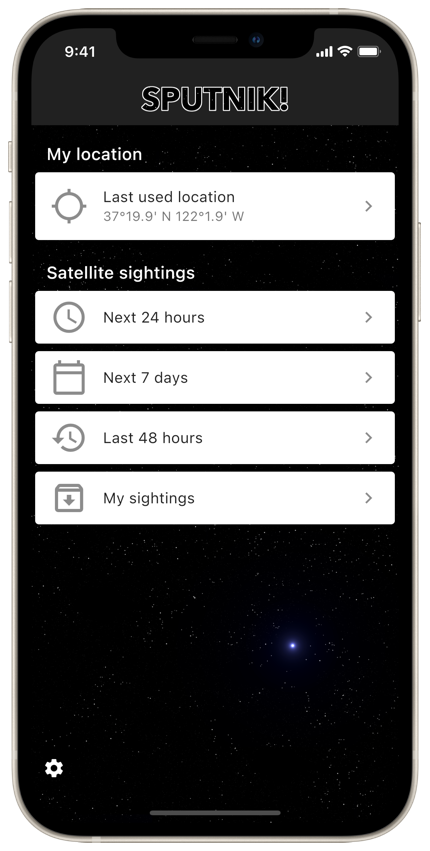 Frequently Asked Questions
Does Sputnik! download its data from heavens-above.com?
No, the app does all calculations on the device itself. There is no need to have an active Internet connection to calculate satellite sightings. However, in order for Sputnik! to be able to perform the calculations, it needs to periodically download orbital elements for the satellites. This is done automatically when the app starts and an Internet connection is available. Orbital elements are made available by NORAD and distributed by CelesTrak.com.
Why does heavens-above.com show a sighting when Sputnik! does not or vice versa?
Sputnik! uses its own algorithms which most likely differ slightly from heavens-above.com. The app also uses cutoff values for sun and satellite elevation to only show sightings for a dark sky where the satellite is sufficiently above the horizon so as not to be obscured by trees and buildings. Heavens-above.com also has cutoff values which might be slightly different. Differences between heavens-above.com and Sputnik! are thus most likely to occur near sunrise and sunset, or when a satellite is low in the sky. You may use the advanced settings to tweak the cutoff values to your liking. Sputnik! does not predict sightings for non-operational or spare satellites since these predictions may be unreliable.
Bug reports and suggestions
Click this link to report bugs or suggest new features.
Release History
3.0.3 (2023-07-19)
Fixed an issue preventing satellite data from downloading.
3.0.2 (2023-01-10)
Fixed an issue which could prevent sighting predictions after changing settings.
3.0.1 (2022-10-18)
3.0.0 (2021-05-28)
First release for Android.
Tiangong space station added.
Updated design.
2.11 (2020-06-09)
Starlink satellite trains are now detected.
2.10 (2020-04-01)
Fixed issues with Dark Mode affecting devices running iOS 13.
2.9 (2020-03-30)
Added a few of the brightest satellites.
The old Iridium satellites have deorbited and have been replaced with the Iridium NEXT satellite network. Unfortunately, these new satellites do not produce flares.
2.8 (2018-05-07)
Fixed an issue where no predictions would be made if satellite data was outdated.
2.7 (2018-02-10)
Optimizations for the iPhone X.
Predictions for the Hubble Space Telescope are now available.
2.6 (2016-03-01)
Fixed an issue where notifications could not be scheduled on iOS7.
Fixed various issues with the Watch App.
*** The Sputnik! Watch App now requires WatchOS 2 ***
2.5 (2015-07-01)
Increased internal cutoff values to show dimmer Iridium flares.
Fixed an issue that would cause occasional Iridium flares to not be included in prediction results.
Fixed an issue that could cause an error message to appear on the Watch app in some circumstances.
2.4 (2015-04-22)
Minor bug fixes for the Apple Watch companion app.
2.3 (2015-04-10)
Sputnik! is ready for Apple Watch!
2.2 (2014-11-12)
Optimizations for iPhone 6 and iPhone 6 Plus.
2.1 (2014-07-02)
2.0 (2014-04-09)
Redesign for iOS7.
Satellite data is now downloaded even if the app is not running.
Sputnik! now collects anonymous usage statistics to help us improve the app and correct errors. More information can be found in our privacy policy on the support website.
*** Sputnik! now requires iOS 7.0 or higher to run ***
1.10 (2013-01-16)
Fixed an issue where brightness would be set to 100% after device auto-lock.
1.9 (2012-11-03)
Faster calculations on devices with a multi-core processor.
Minor bug fixes.
1.8 (2012-09-19)
iOS 6 compatibility updates.
Sharing options now include Facebook, Sina Weibo, Mail and Messages (requires iOS 6.0 or higher).
*** Sputnik! now requires iOS 4.3 or higher to run ***
1.7 (2012-05-25)
Now uses the accelerometer to display elevation for devices without a gyroscope.
Minor bug fixes.
1.6 (2012-02-25)
1.5 (2011-11-27)
You can now permanently remove all advertisements from the app for a small fee.
1.4 (2011-11-15)
Rotate your device to landscape orientation to show exactly where the satellite will pass in the night sky!
Display compass direction and elevation for your device to easily find the part of the sky where the sighting will occur. (Requires capable device)
Tweet about sightings directly from the app! (Requires iOS 5.0 or higher)
Show passes for the last 48 hours.
Setting to automatically remove old saved sightings.
New sounds at 30, 20 and 10 seconds before the sighting.
New sound for notifications.
Advanced settings to control maximum sun elevation, minimum satellite elevation, minimum flare magnitude and more.
1.3 (2011-02-15)
Fixed crash on startup for devices running iOS 4.0 and 4.1.
1.2 (2011-02-08)
Added predictions for the International Space Station.
Minor bug fixes.
1.1 (2010-11-04)
Fixed a bug that caused satellite pass calculation to hang in rare circumstances.
1.0 (2010-10-07)
Copyright 2010-2023 Applicate Ltd. All Rights Reserved.